personalcapetowntours.com
SCHEDULED WEST COAST FLOWERS DAY TOURS!!!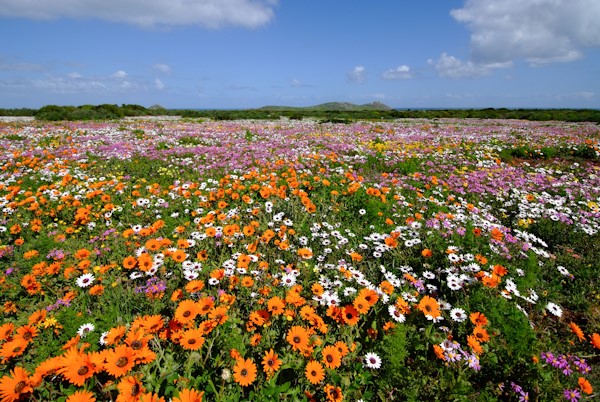 The West Coast Flower Tours are offered by us on a day tour basis, where you can view the beauty of these wild flowers that comes out for only a few months. For the people who loves birds, this tour can also offer a wide variety of bird life especially when it is flower season.

These tours will operate every day during August to October from Cape Town. We will pick up at your accommodation on your request in the City centre.

Perhaps nowhere else on the face of the earth is the season of spring welcomed by nature with such extravagant exuberance as it is in the Flower Season in the Cape and Namaqualand. After good winter rains the landscape becomes a carpet of wild flowers with beautiful different coloured Daisies and Succulents.
Itinerary:
• Depart - 08:30/09:00 from City Centre (Transfers to City can be arranged to meet up with tour)

• Stop off at Melkbos & Yzerfontiein Costal Towns

• Arrive at West Coast National Park
• Picnic Lunch amongst the beauty of nature (daisies of all different colours and watching over us are Zebra's, all different species of Antelopes and even the Tortoises walking in between the flowers.)
• Drive back via Darling to view the Arum Lillies
• Arrive back at Cape Town central

Cost R850 per person with Lunch included.
Terms and Conditions:

Collection points to be confirmed 24 hrs prior to depature. This is based on numbers at the various facilities. Price based on a Min of 4 pax on tour. Inclusive of picnic lunch. Inclusive of entrance fee at West Coast National Park
Contact us now to book a seat in one of our comfy air-conditioned vehicles!!!



Cultural Tours • False Bay & Bird Watching Tour • Cape Agulhas Tour • Cape Peninsula Tour • Cape Town City Tour • Winelands Tours Hermanus Whale Watching Tours • West Coast Flower Tours • Garden Route Tours • Breede River Valley/Hinterland Tours.
website designed by DXJ Graphic Design Studios - All Rights Reserved © 2017